Aircraft On Display
The Toledo Air Show features many military and civilian aircraft on display for patrons to enjoy. Below is a partial list of those aircraft, which are subject to change.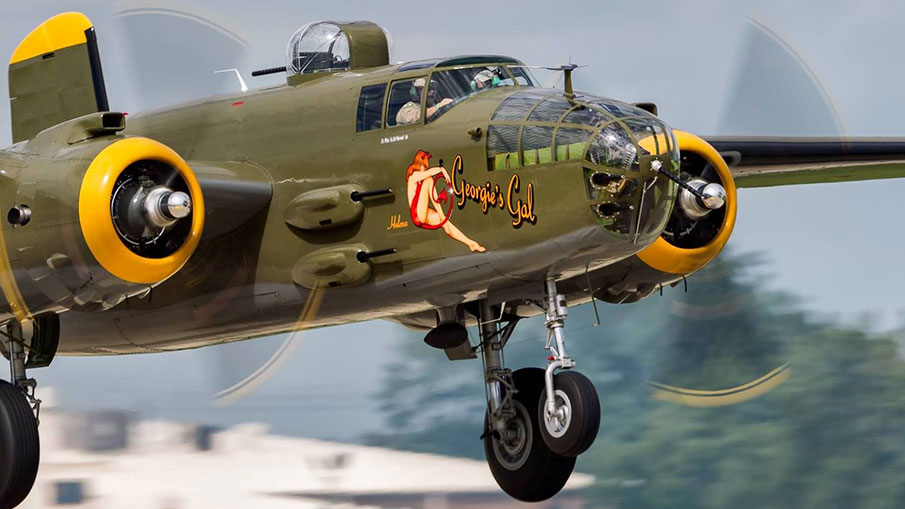 B-25J Mitchell Bomber
"Georgie's Gal" started her life at a manufacturing plant in Kansas City, being accepted into service in 1945. She has been bought and sold numerous times since being decommissioned and entering civilian service, and has previously borne the names "The Devil Made Me Do It," "Man Of War," and "Martha Jean."
TBM-Avenger
This aircraft has been restored by Charlie Cartledge and a team of volunteers at Wadsworth, Ohio. It is operated by Lake Erie Warbirds, and is available for for public fly-by, formation, static display and PR events. Living History aircraft rides are available.
C-47 Skytrain
WWII Douglas C-47 Skytrain "Hairless Joe" named after Lt. Col. Richard E. Cole's C-47 Skytrain he piloted in China-Burma Theatre. Cole is the last surviving member of the Doolittle Tokyo Raiders and was co-pilot to Jimmy Doolittle.
B-25 Yankee Warrior
The B-25D-35-NC SN 43-3634 now flying as "Yankee Warrior" was delivered on December 17, 1943. Originally earmarked for the RAF lend-lease program, it was first assigned to the 12th Air Force, Italy in January 1944. Assigned to the 57th Bomber wing, 340th Bomber Group, she flew eight combat missions with the tail number 9C between April and May 1944.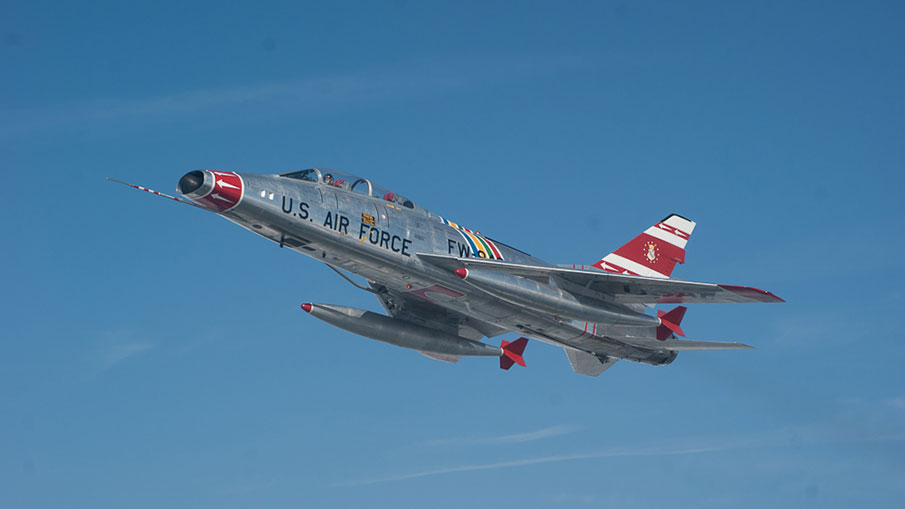 F-100
This aircraft was manufactured in 1958 at the North American Palmdale California Plant and delivered to Holloman Air Force Base in New Mexico by Lt. Harry Eckes. "This particular plane never saw combat while it was in the United States," says Cutshall. "The Air Force used it as a test platform for new weapons systems. There were approximately 2,300 F-100s manufactured, of which 340 were F-100F models. Of all the F-100s manufactured, this is the only operational F-100 in existence. Many were used in Vietnam.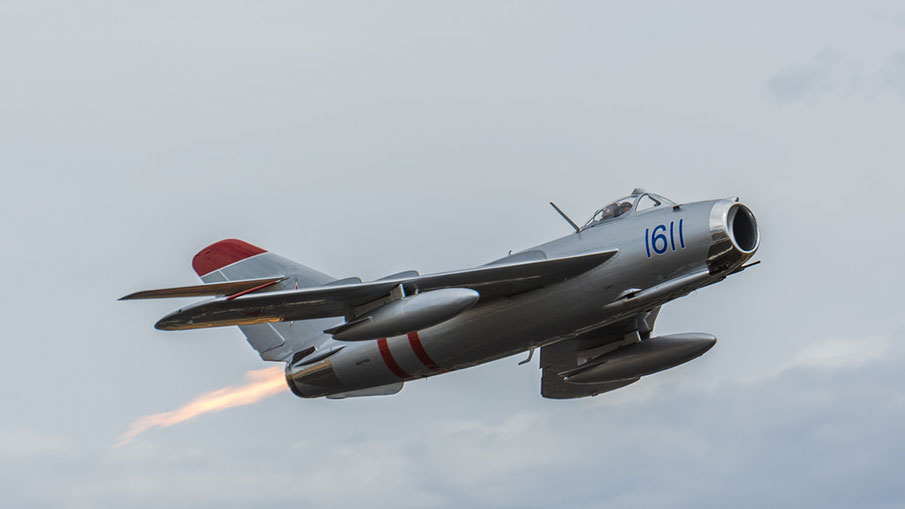 Mig-17
The MiG-17F was a very nimble fighter that could prove deadly unless respected when engaged by pilots with superior training and tactics such as those used by the U.S. Navy and Air Force. One moment's complacency when fighting against the MiG-17F could prove fatal. It was flown by over 20 countries, three of which still fly it. Because of its famous heritage and great maneuverability, it makes one of the best air show jets in the world, able to stay in front of the fans while still flying at great speeds.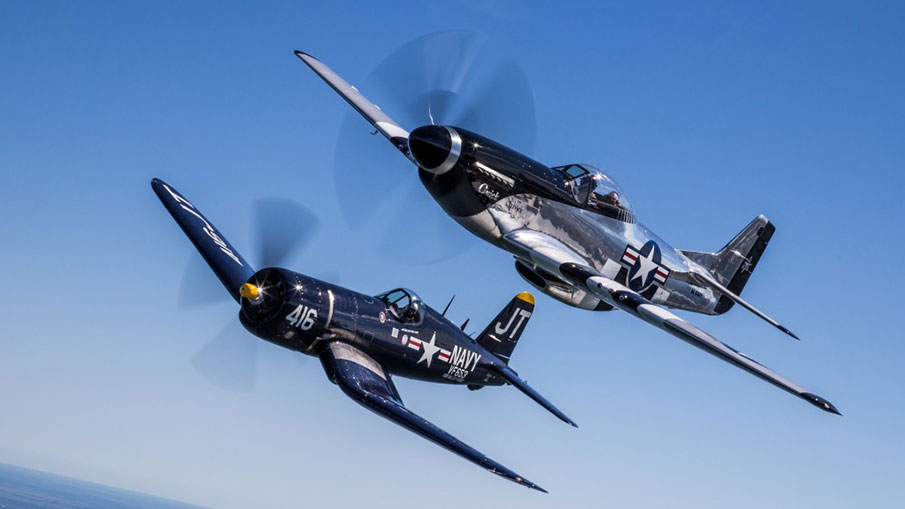 Class of 45
Jim, owner of the F4U-4 Corsair "Korean War Hero", and Scott, owner of the P-51D Mustang "Quick Silver" do a formation flight to honor the service personnel who flew and maintained these legendary American fighters. Both aircraft were the pinnacle of military technology at the time, technology that helped win the war in the European and Pacific Theaters in World War Two, and went on to continue the defense of freedom in the Korean War. Both the "Korean War Hero" and "Quick Silver" were built in 1945. From this landmark year we present to you the "Class of '45".
Howard DGA
Prior to the attack on Pearl Harbor in December 1941, about 80 DGA-8 through -15 aircraft had been built at the Howard Aircraft Corporation factory on the south side of Chicago Municipal Airport. With America's entry into World War II, most of the civilian Howards were commandeered by the military. The Army used them as officer transports and as air ambulances, with the designation UC-70. The Navy, in particular, much liked the aircraft and contracted Howard Aircraft Corporation to build hundreds of DGA-15Ps to its own specifications.
De Havilland Chipmunk DHC1
The de Havilland Canada DHC-1 Chipmunk is a tandem, two-seat, single-engined primary trainer aircraft developed and manufactured by Canadian aircraft manufacturer de Havilland Canada. It was developed shortly after the Second World War and sold heavily throughout the immediate post-war years, being typically employed as a replacement for the de Havilland Tiger Moth biplane.
North American AT6
The North American Aviation T-6 Texan is an American single-engined advanced trainer aircraft used to train pilots of the United States Army Air Forces (USAAF), United States Navy, Royal Air Force, and other air forces of the British Commonwealth during World War II and into the 1970s. Designed by North American Aviation, the T-6 is known by a variety of designations depending on the model and operating air force. The United States Army Air Corps (USAAC) and USAAF designated it as the AT-6, the United States Navy the SNJ, and British Commonwealth air forces the Harvard, the name by which it is best known outside the US.
Stearman PT17
The Stearman (Boeing) Model 75 is a biplane formerly used as a military trainer aircraft, of which at least 10,626 were built in the United States during the 1930s and 1940s.[1] Stearman Aircraft became a subsidiary of Boeing in 1934. Widely known as the Stearman, Boeing Stearman or Kaydet, it served as a primary trainer for the United States Army Air Forces, the United States Navy (as the NS and N2S), and with the Royal Canadian Air Force as the Kaydet throughout World War II. After the conflict was over, thousands of surplus aircraft were sold on the civilian market.
Fairchild F24
The Fairchild Model 24, also called the Fairchild Model 24 Argus/UC-61 Forwarder or Fairchild Model 24 Argus, is a four-seat, single-engine monoplane light transport aircraft designed by the Fairchild Aviation Corporation in the 1930s. It was adopted by the United States Army Air Corps as UC-61 and also by the Royal Air Force. The Model 24 was itself a development of previous Fairchild models and became a successful civil and military utility aircraft.
De Havilland Tiger Moth
The de Havilland DH.82 Tiger Moth is a 1930s British biplane designed by Geoffrey de Havilland and built by the de Havilland Aircraft Company. It was operated by the Royal Air Force (RAF) and many other operators as a primary trainer aircraft. In addition to the type's principal use for ab-initio training, the Second World War saw RAF Tiger Moths operating in other capacities, including maritime surveillance and defensive anti-invasion preparations; some aircraft were even outfitted to function as armed light bombers.
Fokker Triplane Replica
The Airdrome Fokker DR-1 is an American amateur-built aircraft, designed and produced by Airdrome Aeroplanes, of Holden, Missouri. The aircraft is supplied as a kit for amateur construction and is available in two versions, a full-sized and a 3/4 scale replica. The aircraft is a replica of the First World War German Fokker Dr.I Triplane, built from modern materials and powered with modern engines.
Navy N3N
The Naval Aircraft Factory N3N was an American tandem-seat, open cockpit, primary training biplane aircraft built by the Naval Aircraft Factory (NAF) in Philadelphia, Pennsylvania, during the 1930s.
Robinson R44 Helicopter
The Robinson R44 is a four-seat light helicopter produced by Robinson Helicopter Company since 1992. Based on the company's two-seat Robinson R22, the R44 features hydraulically assisted flight controls. It was first flown on 31 March 1990 and received FAA certification in December 1992, with the first delivery in February 1993.
Military Aircraft Displays
To Be Announced